Months ago, I wrote a blog post highlighting Cisco Spark as a robust application for collaborative meetings and persistent chat rooms — not to mention a powerful cloud-hosted phone system as well. With this post, I would like to dive into the the meeting, whiteboard, and chat features. All create a seamless and intuitive collaboration experience that is beneficial to any daily task.
Recently, a support request came through and I needed to collaborate with another engineer from our Manchester, NH office. I wanted to have a seamless video conference with him, including the ability to whiteboard. For that reason, I opened the Cisco Spark app on my workstation and sent him a quick message to create a chat room for us. I then used the soft phone feature of the Cisco Spark app, my workstation's wireless USB headset, and camera to call my colleague in Manchester. Here's a peak at what it looks like to open the app before making a call (yes, that's me in the background).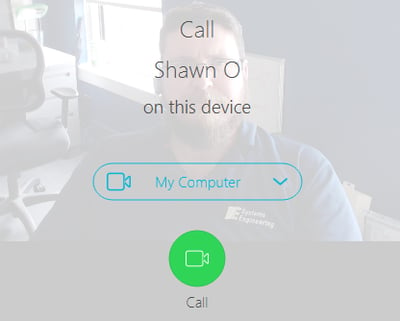 Next, he and I began to whiteboard which allowed me to look on as he shared his screen. This is what the whiteboarding looks like.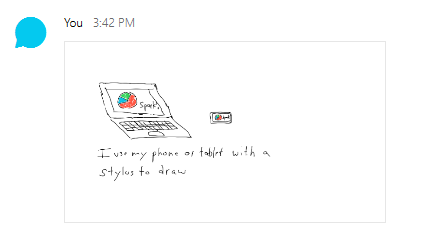 (Note the time stamps above as I will refer to this later on in this post.) Anyone who is a participant of the call can click on the whiteboard and begin to scribe; it even allows you to post a snapshot to the room so that changes over time are noticed by all participants.
Screen Sharing
Now, let's talk about screen sharing. The buttons shown below are used during a call to mute, audio and video, screen share, and add participants.

The image below shows the screen sharing feature in an active video call (and that's me in the top right corner with my colleague down below).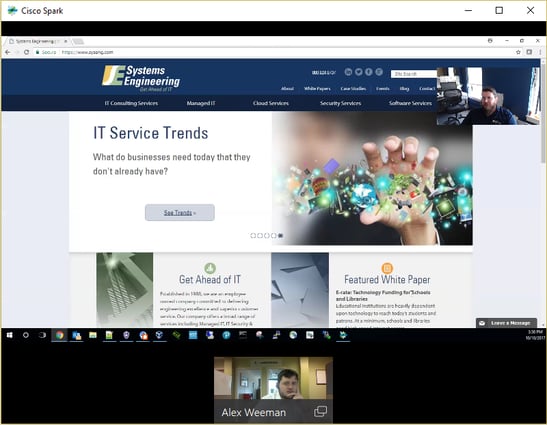 Mid-way through my call with my Manchester colleague, I felt we needed another engineer's input, so I invited a third participant to the call. The video experience felt natural and the new participant could independently scroll back through the chat timeline to see the whiteboard, which we had used previously to describe the issue. At the same time, all three of us were looking at my colleague's shared screen and were able to chat commands to each other while witnessing the results instantly. I realize this is hardly a new concept for online meetings, but Spark made this process very easy.
Through the afternoon, as we worked our way through the issue, we left and rejoined the active video call as we each had time to assist. Once my colleague found the solution, he announced it to the room via chat and we all saw the notification. He then ended the video call, but the persistent chat room kept our screenshots and whiteboard updates in a nice timeline to review. There were time stamps for each video call participant and whiteboard updates which where helpful for time entry purposes later on.
It's important to note that our video call was active the entire time, and at no point did I feel we had to end the call. I did have to step away at one point for half an hour, but rejoined seamlessly since the app showed that both participants were still active on the call. The takeaway here is that I wasn't discouraged by start/end times and all the steps it usually takes to join a meeting; I just had to click the green 'Call' button and we were all reconnected. Simple.
I often think of the many ways we now have to communicate with those around us, and what I have found with Cisco Spark is that it works much like a phone call, not a scheduled meeting or an email where you aren't assured a timely response. Perhaps the greatest benefit is that a simple phone call can expand quickly and easily into a full collaboration experience, all with one app.
If you would like to learn more about today's modern collaboration tools, email info@syseng.com or call 888.624.6737.
---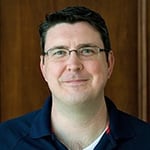 Jason Beal, Infrastructure Engineer, is a Cisco Network and VoIP Engineer with close to 20 years of network engineering experience with a focus on Cisco Collaboration technologies in the latter years. He has been with Systems Engineering for four years and maintains a CCNP Collaboration certification. Jason divides his time between building Cisco phone systems, troubleshooting customer networks, and traveling to customer sites for deployments. Outside of the office, Jason captains the SE soccer team.