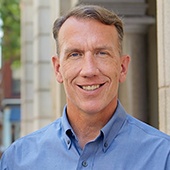 Growing up as an early Gen X'er, I didn't have IT in my house, unless you include Atari® and microwaves within that category. In fact, IT was not at the forefront of my mind when I'd grown tired of wearing a hard hat and steel-toed boots as a Commercial Carpenter. So, how did I get into IT, you ask?
At the time, I lived in Vermont with my wife and we were expecting our first child (no pressure). Scanning the classifieds, I marveled at the number of 'computer' jobs that were listed while wondering about all the media coverage and conversations around 'Y2K.' I concluded that IT and computers would be a good career field in the next millenia.
As luck would have it, I was playing basketball with some friends who owned a computer company and decided to ask them how I could enter into the world of IT. With an invitation to a Subway® lunch accepted, I was excited to learn more about the computer industry. Over a foot-long sandwich, we talked about IT and it wasn't long before they asked me to work for Vermont Systems (VSI) - phew! My job was to travel around the nation and train end user on how to use VSI's parks and recreation software. There are a few transferable skills between carpentry and IT, but I spent a considerable amount of time studying online manuals at home and while traveling to various training appointments. I felt like a teacher who was just reading a chapter ahead of his students; however, I learned that I was pretty good at communicating with people. Being an IT novice provided me with immediate empathy, and somehow, credibility with the predominantly non-technical sector of people who I was tasked with training.
By now, I had two children and I was traveling 50% of the time. The first time my son told me he would miss me was the beginning of the end of my tenure at VSI. During my time there, I had learned basic networking and how desktops and servers communicate with one another. This basic knowledge allowed me to obtain a job with a small IT consulting firm that also happened to run a trenchless digging company out of the other side of the building (no kidding). By then, I was studying textbooks to obtain certifications while being 'baptized by fire' each day on the job. Mercifully, our Senior Engineer took me under his wing and connected many dots for me. Without his help, I'm not sure I would have survived within the IT field.
A few years later, a former co-worker wrote to tell me that he had been hired at Systems Engineering (SE) in Portland, Maine which was considered to be in the 'big leagues' of IT consulting. By then, I was a father of three children and I realized this opportunity would also bring my growing family closer to my wife's relatives. I interviewed with SE and was offered a Network Administrator job.
After beginning at SE, I worked with a Team Leader who was a great mentor and taught me about technology and customer service. It wasn't long before I had an opportunity on the Project Management team and then, shortly thereafter, I found myself within team management.
SE has been my work home for 11 years now, and I consider my co-workers as extended family. The whole SE group shares in the values of service and integrity and we see IT as a means to help businesses become more streamlined and efficient. Throughout my journey, I have been extremely well supported by key peers, managers, and direct reports. Technologies come and go, so to me, IT is about the people, processes, and organizational objectives that IT serves. As a result, I've yet to long for my hard hat and steel-toed boots.
To learn more about Systems Engineering, visit our website.
Jim Woolverton is the Director of Managed Services and is responsible for ensuring quality service delivery in support of all of Systems Engineering's client service agreements.