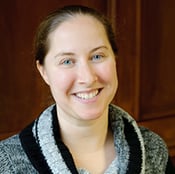 In much the same way that a person hires a financial planner to reach his or her short-term and long-term life goals on schedule, our Systems Engineering IT Project Managers serve as the liaison, internally and externally, to ensure our clients receive what they requested from the beginning of our relationship with them.
"The whole point of having a Project Manager work with a client is to create transparency, documentation, and process," explained Systems Engineering Project Manager Victoria Reed, when I asked her to walk me through the process that she encounters every day.
I listened to Victoria speaking to a client and heard all the details she had to relay for each and every part of the project. She talked the client through the components of a network redesign, who they could expect to see on the job and for how long, the changes that might occur in the process along the way, and the timeframe in which the project was expected to wrap up. By the end of the call, the client had a clear picture of their 40-plus-hour project in the palms of their hands.
At any given time, Victoria and her colleagues are working on several account projects at once. Their objective is to understand the big picture, the various goals, to identify efficiencies, and to work seamlessly with internal and external stakeholders to identify and correct issues before they impact the project.
And when all is finished? That's not the end of the Project Manager's relationship with the client. Victoria and her colleagues follow through with a meeting to ensure all is working as it was proposed and promised.
"The value-add is that the customer knows what's going on with no surprises at any point in the process," mentioned Victoria. "Transparency is key."
If you would like to learn more about Project Management at Systems Engineering, click here and fill out the "Contact Us" form, or email info@syseng.com.