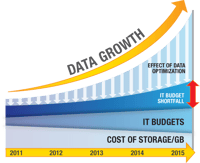 Business data growth is exponential in nature, especially with much more of it becoming e-based, e-filed, and e-stored. The managing and organization of that data comes down to several very important questions, all of which need to be addressed by organizations.
Which data is important enough to keep?
Of the items that are kept, which should be archived?
If something happened to your business, which data can you not afford to live without and which data can you wait to get back later?
How are you storing and replicating that data?
Answering the questions above helps businesses to understand the backup and recovery position they should take. Establishing and maintaining a data governance approach takes time, money, and an alignment between senior management and IT.
Once a data governance and protection plan are in place, it's time to consider the various solutions that are available. The solutions range from those that are easy to budget for and those that require clear business justification; those that are more expensive might offer exactly what you want, while less costly solutions require buy-in from all stakeholders. So what now?
Do you go with the less expensive solution knowing that it may take a day or more to recover from a disaster or ransomware event?
Or, do you go with the more expensive solution that provides you with the ability to rapidly recover or even fail over to a disaster recovery (DR) site in the event of a disaster?
The scary truth is that 40% of businesses that experience a human-caused or natural disaster never reopen.1 So, what are you willing to put at risk?
Whether you are working on a business continuity plan or looking to align data recovery needs and expectations with your budget, decisions need to be made about how various applications and data should be protected.
At our recent Lunch & Learn event titled Risk Management in the Era of Ransomware, presenters explored how data governance can help you meet your business continuity and information security needs.
To learn more about our events or to sign up for a free data protection assessment for your organization, email info@systemsengineering.com or click on the button below.
1Insurance Information Institute