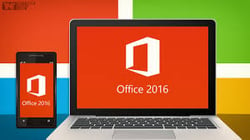 Microsoft has announced that at the end of the month (March 2016), users who have downloaded and installed the Office Suite from their Office 365 subscription will receive a notification to upgrade to Office 2016 (only Office 2013 installations that meet certain criteria will receive the notice). The notification will appear just below the ribbon in Office Suite applications: Word, Excel, PowerPoint, or Outlook.
In addition, if a user installs Office from the Office 365 portal, they will be offered to install Office 2016 (to install Office 2013, scroll further down the same software screen).
Systems Engineering's Recommendation
We recommend that you dismiss the upgrade notification, unless there is a business need to upgrade and a plan in place to do so. If you are interested in Office 2016, which contains a number of enhancements, read Microsoft's end user resources for learning about Office 2016.
For questions, or to discuss the Office Suite upgrade, please email us or contact your SE Account Manager.