At Systems Engineering, our success depends on the efforts of our employees. We strive to attract and retain talented, dedicated, and skilled staff who share our values, contribute to our vision, and take pride in our clients' success.
We are pleased to welcome the following members to the SE team: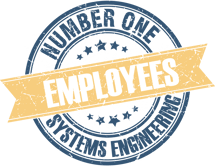 Karri Beling to Reception.
Douglas Coleman to Project Management.
Terin Damron to Customer Service.
Andy Hanft to Engineering.
Tylor Marquis to Engineering.
Orie Porter to Engineering.
Shawn Reardon to Help Desk.
Brandon Schneckloth to Project Management.
For information on current Systems Engineering career opportunities, please visit our careers page.