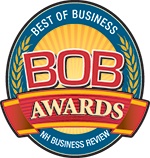 We are excited to learn that Systems Engineering has been nominated as a BOB Award contender. The BOB Award is a New Hampshire Business Review awards program that celebrates the best companies in more than 80 business-to-business categories. Systems Engineering is competing in the "Managed IT Services" category #7.
The award winners are selected based on the number of votes received from the community. As such, we are calling on clients, partners, and readers to vote and to help us spread the word about this prestigious nomination. We would be honored to be a 2016 BOB Award recipient.
To place your vote, click on the button below (Note: you can skip through the categories you're not familiar with; however, you must vote on at least 15 categories for your vote to count).
The team at Systems Engineering appreciates your support and participation.