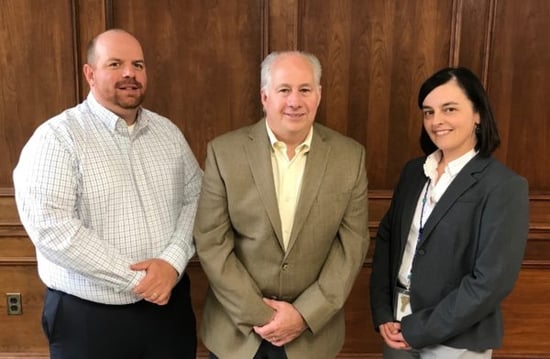 From left to right: Eric Tennyson, Mark Benton, and Christine Doucette.
PORTLAND, Maine— June 12, 2017 — Systems Engineering (SE), a leading IT strategy and managed services provider, announced today it has expanded its leadership team. Recent additions to the team include Eric Tennyson, Director of Finance and Administration, who will provide strategic support and oversight to the company's finance and human resource functions. Mark Benton, who has been with Systems Engineering for seven years, has been promoted to Director of Product Management to guide the new product development pipeline as new technologies emerge. Together, they will support the company's strategic vision and growth goals and be based in the company's Portland, Maine, headquarters.
Additionally, Christine Doucette joined the team as the Quality Assurance Manager, an entirely new role at Systems Engineering. She will oversee quality management, a new initiative for the organization with a focus on qualifying and improving internal processes and procedures.
"As we grow, it's critical to invest in exceptional talent that can add skill and strength to our existing leadership team," said Craig Tribuno, President of Systems Engineering. "We are pleased to welcome Eric and Christine to the Systems Engineering team and honored to have Mark be part of the leadership team. I know they will help us drive our mission to provide engineering excellence and superior customer service in today's ever-changing technology landscape."
Eric Tennyson, Director of Finance and Administration, will provide strategic support and oversight to the company's finance and human resource functions, overseeing a team of seven. Eric has close to 20 years of international, corporate financial expertise working in high growth companies. Prior to joining Systems Engineering, Tennyson was the Director of International Finance at WEX, Inc. where he and his group were responsible for financial planning and analysis for the company's International and Global IT teams. He lives in Cape Elizabeth with his wife and two daughters.
Mark Benton, Director of Product Management, brings over 30 years of experience working with and managing technology. Prior to joining Systems Engineering, Mark served as CIO and COO for a variety of businesses, and built a software-as-a-service "SaaS" organization. Mark is also an active Board Member of the Maine Cyber Security Cluster (MCSC). He is a graduate of the University of Maine, has lived and worked on both coasts, and presently lives in Auburn, Maine.
Christine Doucette, Manager of Quality Assurance, will lead Systems Engineering's new internal quality initiative designed to examine and improve company processes and procedures. Doucette brings several years of experience achieving high-performance outcomes through continuous improvement programs. She holds certifications as a green belt in Lean/Six Sigma and in the GE Healthcare Change Acceleration Process. Most recently, she was a coach in the Central Maine Healthcare process improvement department, where she designed and implemented training and development programs focused on continuous improvement methodologies. Doucette earned a B.A. in Arts & Humanities with a minor in Leadership and Organizational Studies from the University of Southern Maine in 2009. She is currently working toward her M.A. in Leadership and Organizational Development. She lives in Auburn with her two children.
About Systems Engineering, Inc.
Systems Engineering is a leading IT strategy and managed services provider serving over 500 legal, healthcare, financial services, and government clients nationwide from its headquarters in Portland, Maine, and its office in Manchester, New Hampshire. Founded in 1988, Systems Engineering became an Employee Stock Ownership Plan (ESOP) company in 2008. The company is committed to delivering engineering excellence and superior customer service and has a team of more than 100 network engineers, security professionals, data management experts, field service technicians and account managers available 24 hours, 7 days a week, and 365 days per year to meet the needs of its clients. From network design, installation and training to a full complement of managed security, data management, business continuity and help desk support services, Systems Engineering helps clients Get Ahead of IT. Systems Engineering was named one of the Best Places to Work in Maine for three consecutive years (2014, 2015, 2016) and received a 2016 Governor's Award for Business Excellence. For more information, please visit syseng.com or call 888.624.6737 or 603.226.0300.