For the fifth consecutive year, Systems Engineering (SE) will be participating in Movember, a month dedicated to raising money and awareness for men's health. At SE, we believe in utilizing the power of our people and profitability to make the world a better place.
This month, we will grow mustaches, beards, goatees, and Fu Manchus while raising money for men's health. Please consider joining, contributing, or just following our progress as we go for a new goal of raising $10,000 for men's health in 30 days. In the meantime, please excuse the work in progress (included below is a 'before' picture to show that our professionals really are professional looking); it's all for a good cause!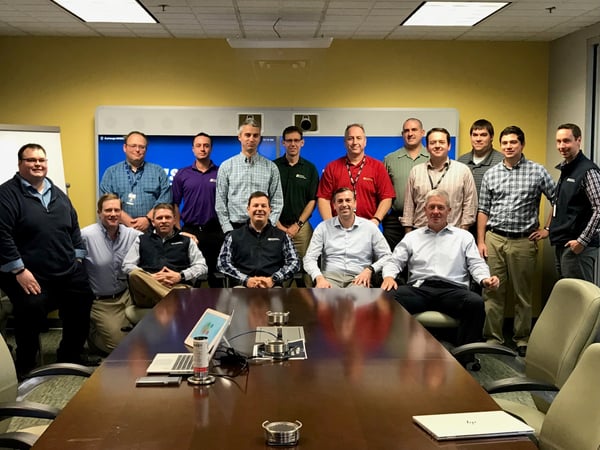 Please read below to get a better appreciation for some men's health statistics driving this cause, and thank you in advance for any contribution, large or small, that you are able to donate.
Did you know that we lose 60 men to suicide every hour in this country?
As we all remember the recent loss of world-renowned Chef and world traveler, Anthony Bourdain, or musician Chester Bennington from the group Linkin Park, it's a statistic like the one above that really helps place things in perspective. Whether by suicide, prostate cancer, or testicular cancer, the fact is that men perish five years earlier than women on average - this is a statistic that needs to be changed and one that The Movember Foundation is working hard to accomplish annually during the month of November.
The Movember Foundation, if you haven't heard about it, is the "leading charity that's changing the 'face' of men's health." By addressing some of the biggest health issues that face men, which are prostate cancer, testicular cancer, and suicide prevention, the foundation funds the most innovative research for local and global impact—in 15 years, the foundation has funded more than 1,200 men's health projects around the world.
So, "why the mustache," you ask?
The Movember Foundation was pioneered when two men began to grow mustaches with the idea to start conversations around men's health to raise awareness and money for that cause. It worked and so they've asked others to jump on the charitable bandwagon. Since then, they've added two additional ways in which to participate (so that women can join in the fun too): run/walk 60 miles to honor the 60 men lost every hour, or host an awareness event to raise money for the cause.
"As a company, we take wellness and the overall health of our employees and community very seriously. We have a lot of initiatives focused on charitable giving, but none that are completely funded by the employees and their networks like Movember. Men's health can be a taboo subject and the Movember movement takes a lighthearted approach to a serious issue. If you see one of our normally buttoned-up employees looking a little 'shaggy' during the month of November, it's for a good cause," explained Matt McGrath, SE President.
So, if you happen to have a mustache-ridden engineer scheduled to enter your building in the coming month, please don't be alarmed by the appearance. Instead, feel free to help SE support the cause by donating to our team site linked here or via the button below.
Happy Movember!