Quality is a broad term and can mean different things to different people. From an organizational perspective, quality is a desire for continuous, consistent, efficient, and value-added systems, services, and processes that deliver customer requirements. Quality means striving to improve the overall effectiveness while making all aspects of the organization more operationally fit.
At Systems Engineering (SE), one of our 2017 goals has been to improve quality across the board. Aspiring to increase the value of the services we provide to our customers means continually improving what we do. Continuous improvement is a methodology, a mindset, and way of doing things - it is about improving the flow of processes, removing waste, satisfying our customers, developing and engaging the staff, solving problems, and producing results.
Seeking to improve quality by continuously improving what we do is a journey, not a destination. It is an ongoing effort that needs to be driven by everyone in the organization. Quality, thereby, becomes part of the culture and the way we do things at SE.
Listed below are the three "P's" we've used to walk through the quality enhancement process.
Purpose
There are many benefits to an organization and its customers when there is a focus on continuously improving. The benefits are:
Higher customer satisfaction
Higher employee satisfaction
Lower costs and increased revenue
Increased organizational capacity and growth
Less waste
Better problem solving skills
More standard processes with more consistent outcomes
The principles behind quality and continuous improvement include:
Focusing on the customer and what they value
Focusing on making a process more efficient and with less waste
Decision making based on data
Leadership, vision, and unity of purpose
A system-wide cultural attitude of striving to continuously improve
Respect and engagement of the people who do the work
Process
When making improvements, solving problems, or initiating changes, following the continuous improvement four-step model of P.D.C.A. (Plan, Do, Check, Adjust) is the best way to organize and systemically work through various challenges. Here's a definition of each:
Plan:

Define the problem or change
Make a detailed, well-thought-out plan of action

Do:

Implement the proposed solution or change, "If we do X, then we expect Y."

Check:

Review and analyze the solution or change - what's working, what's not, what could be better?

Adjust:

Working well = sustain and make standard
Not working well/needs adjusting = go back to PLAN (step 1)
People
Quality and continuous improvement is everyone's responsibility. Quality is not about one person or department telling others to change or improve what they do but, rather, an effective means to tap the potential, skills, abilities, and knowledge of all employees. To do this, staff must be encouraged to:
Be creative and open to new ideas and new learning
Be accepting of change and seek to understand one's role in any change initiative
Ask often: ask what's working, what's not working, what could be better?
Ask why: ask open-ended questions to prompt thinking and dig deeper into problems or issues.
Be part of an improvement effort
Develop self and encourage others to do the same
Focus on improving process, not people
Engage in team and provide peer-to-peer support
Model the behavior you seek or expect in others
Hold yourself accountable
Sometimes change is difficult but, if it's necessary and implements good results in the end, it's time to make it happen.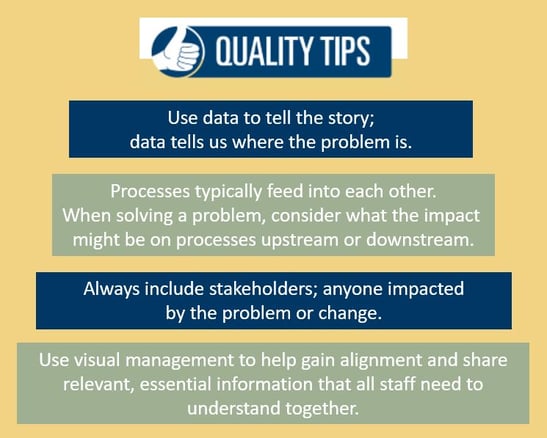 Questions or thoughts? Email info@syseng.com or call 888.624.6737.
---
Christine Doucette joined Systems Engineering in April of this year and is the Quality Manager. She is focused on qualifying and improving internal processes and procedures. In the past, Christine has coached and facilitated improvement projects and designed and implemented training programs focused on continuous improvement methodologies.