Having an employee in medical distress is a situation no company wants to experience, but every company must prepare for. When emergencies occur, we instinctively call 911 for help and expect to connect with emergency services. But what if your organization has multi-line phone systems, remote staff, or uses softphones? Calling 911 may not necessarily be so straightforward. Here are two essential laws you need to know when preparing your business for a potential 911 situation.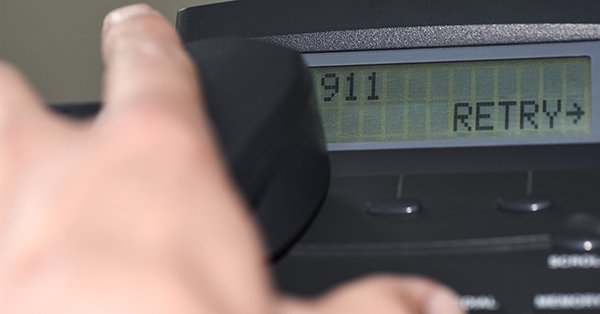 For this blog, 911 is defined as the ability to dial this number from any device without obstacles. Enhanced 911, or E911, is the ability to determine the exact location the emergency call is coming from.
Regulation Overview
The laws to be familiar with are Kari's Law & RAY BAUM Act. Both are enforced by the Federal Communications Commission (FCC) and require businesses to support the following:
In 2018, the United States Congress passed "The Kari's Law Act of 2017." This law requires any business with a multi-line telephone systems (MLTS), commonly found in office buildings, campuses, and hotels, the ability to directly dial 911 without the need for a digit prefix (i.e., dial #9 to get an outside line). When 911 is dialed, the system must be configured to send a callback number and caller location to a predetermined business contact, like the front desk or security station.
Shortly following, RAY BAUM's ACT was passed requiring first responders (police, fire, or ambulance services) to receive a more specific "dispatchable location," regardless of the calling platform. Dispatchable location is defined as a specific location, such as the address, floor, and room number. This ruling also requires that your MLTS be capable of automatically sending precise location details to the 911 operator on the call.
As the pandemic pushed organizations to deploy remote workers, and a more distributed workforce is becoming the norm, some organizations could be in violation of these laws. As implemented by the FCC, both laws impact any company of any size using MLTS that was manufactured, sold, or installed on or AFTER February 17, 2020. Some common MLTSs include Voice over Internet Protocol (VoIP aka softphones), internet-based Telecommunications Relay Services (TRS), and mobile text devices.
911/E911 Compliance Considerations
As 2022 begins, businesses that do not comply with Kari's Law and RAY BAUM's Act may face FCC penalties and hefty fines that steadily increase each day the business remains uncompliant. Carefully consider the following:
Was your phone system installed after February 17, 2020?


If yes:

All voice-capable devices must be able to dial 911 from any office desk phone or device without a prefix number.
Enhanced 911 must be enabled so first responders can get an accurate location for a 911 call.

If no:


If your system was installed prior to this date and you have not purchased new licenses, patched, or upgraded the system, your systems may not be capable and therefore not held to this regulation.

Starting in January 2022, these federal regulations will apply to all worker types, including remote and mobile.

If staff have company phones in their home offices, include them in your Enhanced 911 configuration.
If staff use a soft-phone app on their computer or smartphone outside of the office, create clear policies surrounding emergency calling.

Your organization's softphones are likely configured to show the address of the business vs. the employee's physical location.

On top of being aware of FCC regulations, review your state's guidelines for 911/E911 requirements. Laws vary by state.
An emergency can be a chaotic time, and our instinct is to pick up the closest voice-capable device and dial 9-1-1 for help. It's crucial for businesses to understand these regulations and eliminate any barrier that makes it difficult for staff to connect and receive emergency services. Please follow this link to read more details on Kari's Law and RAY BAUM's Act.
---
For more information, connect with us at info@systemsengineering.com or call 888.624.6737 to speak to a Systems Engineering representative. Clients, please reach out to your Account Manager.