Today's rapid advancement of technology is opening up endless opportunities for business growth and innovation. This constant evolution is reshaping how companies operate, compete, and cater to customers. With technological advancements showing no signs of slowing down, how can your business find ways to stay current on emerging technologies and improve operational excellence with technology?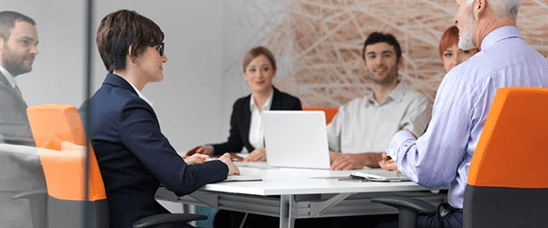 To achieve success in this area, the first step is for your business to establish a seamless communication and collaboration channel between the business leaders and your IT services providers. At Systems Engineering, we facilitate this through regular meetings where your executives can openly discuss their vision and goals during an Executive Business Review (EBR).
What is an Executive Business Review

?
The EBR, sometimes referred to as a Quarterly Business Review (QBR), is a regularly scheduled meeting with your primary technology consultant or Account Manager at your IT managed services provider (MSP). Your consultant will bring the appropriate players to the table to ensure alignment with your business goals and objectives. This review should always include your executive team and, depending on your needs, technology subject matter experts, cybersecurity and compliance specialists, and other knowledgeable stakeholders.
This critical meeting is a macro-level strategic conversation about the direction of your business and its supporting technology. As a trusted IT advisor, your Account Manager's goal is to support your organization's move to a deeper level of operational maturity. After a quality EBR, you can expect better visibility into your IT costs and the state of your network, and its resources. You also gain insight into how well your IT aligns with your business goals and industry best practices.
Why invest your valuable time

?
Nobody likes surprises when it comes to IT investments. One of the significant elements of an EBR is IT planning to support business initiatives, with a focus on minimizing unplanned expenses. Because IT is integral to the success of every facet of your organization, input from executive leadership is vital. Discussions center on long-term business plans surrounding your most critical applications and the infrastructure that supports them, your cybersecurity posture, disaster recovery position, business transformation goals, and budget. Executive viewpoints are crucial as they provide the direction and priorities that your technology consultant needs in order to develop a technology strategy to help you achieve your business's goals. Decisions are made during an EBR that impact your business and move you towards becoming more operationally mature from an IT perspective. You wouldn't want these decisions left to anyone but the business leaders.
How to have a successful EBR.
An EBR is meant to be a macro-level, highly strategic meeting of the minds. This is not a venue to discuss daily tactical topics like support tickets and computer configurations, but rather have an open dialogue to share organizational objectives and potential roadblocks. Clear communication using non-technical language is used to discuss business topics, priorities, direction, and goals. An example of contemporary questions discussed in EBRs include:
Will you employ a hybrid workforce with some positions permanently remote?
Will you continue using the cloud-centric communication tools you invested in during the past year to replace your existing on-premises appliances and tools?

Have you considered the need for cyberinsurance to address high risk security vulnerabilities impacting businesses in the marketplace?
Based on your needs, your technology consultant will set up an appropriate cadence for EBRs, with a typical agenda that includes:
1. Listening to your needs and business goals.
An in-depth discussion meant to learn about initiatives and challenges aimed at uncovering opportunities to help your business become more effective and achieve its goals with technology.
2. Driving the conversation to align IT with business initiatives.
Discussion around success metrics and alignment.
3. Presenting solutions that provide a competitive advantage.
Differentiators, solution comparisons, and unique value propositions are reviewed.
4. Assembling and reviewing a 3-5 year IT budget roadmap for future implementation phases that include:
major initiatives (new branch, new application, etc.),

network devices' lifecycle management,

manufacturer renewals,

IT services spend,

carrier design and spend, and

per added employee cost estimates.
5. Presentation of reports and discussions around red flag observations of unhealthy trends and strategies to overcome them.
Review of KPIs with action items based on opportunities and risk exposure.

Review cybersecurity posture and ways to fortify your organization against threats.

Assess any applicable regulatory requirements and identify opportunities for compliance.

Identify opportunities for better alignment of IT initiatives to business goals.
As a business leader, you set your company up for success by becoming more engaged in IT conversations. The value and benefits mutually gained from consistent EBRs provide what is needed to improve operational excellence through technology. The two-way dialogue is intentional so you can voice opinions and concerns while your Account Manager listens to your needs and understands your expectations. This colloquy is exactly why an EBR is designed and why you will want to attend, rather than delegate, your next executive business review.
---
What technology problems can we help you solve? Conducting appropriately scheduled EBRs is part of what we provide as your IT and security services partner If you are not a client of Systems Engineering, your IT services provider has not provided this level of investment in your business, and you want to learn more about the value delivered through EBR engagements, please reach out to Systems Engineering. Select the button below and tell us about your IT needs, and we will be happy to have a conversation with you.
---
If you are a Systems Engineering client and have questions about your EBR, please reach out to your Account Manager. Others, please connect with us at info@systemsengineering.com or call 888.624.6737.