PORTLAND, Maine — September 2021 — Systems Engineering has recently been named one of the 2021 Best Places to Work in Maine. This marks the eighth consecutive year the company has been recognized and honored as one of the best places of employment in Maine, benefiting the state's economy, its workforce, and businesses. Systems Engineering will be recognized in the October 18th edition of Mainebiz.
---

"Being named as one of Maine's Best Places to Work is a testament of our dedication to creating a workplace experience that is engaging, a culture that is cohesive, and employee-ownership opportunities that drive our business forward, giving our customers the best outcomes for their businesses."
Jennifer Hughes, Systems Engineering's Employee Success Manager.

---
About the Program
Maine's Best Places to Work program is a statewide survey and awards project created in 2006 to identify, recognize, and honor the best places of employment in Maine. This was a project of the Society for Human Resource Management - Maine State Council (MESHRM) and Best Companies Group. Partners endorsing the program include Mainebiz, the Maine State Chamber of Commerce, and the Maine HR Convention. The 2021 Best Places to Work in ME list is made up of 100 companies in three size categories: small (15-49 U.S. employees), medium (50-249 U.S. employees), and large (250+ U.S. employees).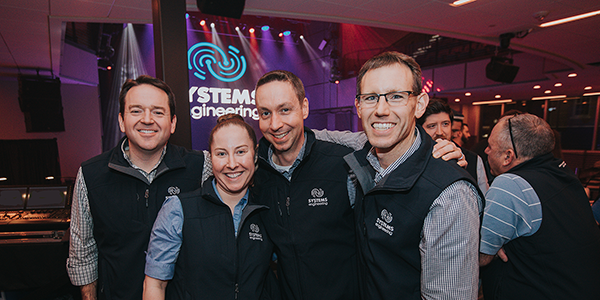 Eligibility Criteria
Have at least 15 employees working in Maine;
Be a for-profit or not-for-profit business or government entity;
Be a publicly or privately held business;
Have a facility in the state of Maine; and
Must be in business a minimum of 1 year.
Assessment Process
Companies from across the state take part in a simple yet thorough two-part company assessment designed to gather detailed information about the workplace.
Part 1 - Worth 25% of the overall score. Employers complete an in-depth questionnaire assessing workplace policies, practices, and demographics.
Part 2 - Worth 75% of the overall score. Employees complete an Engagement & Satisfaction Survey to measure the employee experience.
Analyzing Results
The combined scores are categorized according to eight Core Focus Areas to determine the top companies and the final rankings.
Leadership and Planning

Corporate Culture and Communications

Role Satisfaction

Work Environment

Relationship with Supervisor

Training, Development and Resources

Pay and Benefits

Overall Engagement
About Systems Engineering, Inc.
Systems Engineering is an IT strategy and managed services provider delivering world-class technical and business solutions to enable the exceptional within organizations. Established in 1988, Systems Engineering is 100% employee-owned serving more than 500 legal, healthcare, financial services, and government clients nationwide. Headquartered in Portland, ME, with an additional office location in Manchester, NH, the company has a team of 165+ who are available 24×7, 365 days per year to serve the needs of its clients. Systems Engineering is a forward-thinking, modern technology partner that seeks to securely enhance business by providing superior IT services and leadership that enables clients to grow and prosper.
Systems Engineering is a workplace of choice and looking for top-tier talent to join our 100% employee-owned culture. Check out our Careers page for our current opportunities, visit systemsengineering.com, or call 888.624.6737.