Systems Engineering, a leading IT strategy integrator and managed IT services provider, has been named one of the 2018 Best Places to Work in Maine. The announcement represents the fifth consecutive year that Systems Engineering has been honored with the award. The company, which is based in Portland, Maine, will be recognized at an awards ceremony on October 9, at which time the final rankings will be announced. This year's list is made up of 75 companies in three categories: small (15-49 U.S. employees), medium (50-249 U.S. employees) and large (250+ U.S. employees).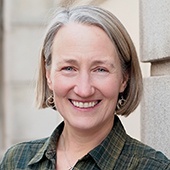 "It is a distinct honor to be recognized as a Best Places to Work in Maine for a fifth consecutive year," said Lynne Gawtry (pictured), Director of HR at Systems Engineering. "We feel strongly that our employee-owner culture, as well as our culture of great service, has contributed to our successes as a company and as a great place to work." Systems Engineering became an employee-owned company in 2008.
This statewide Best Places to Work in Maine awards program was created in 2006 as a way to identify, recognize, and honor the best places of employment in Maine, benefiting the state's economy, its workforce, and businesses. The program is a project of the Society for Human Resource Management - Maine State Council and Best Companies Group. Partners include: Mainebiz, the Maine State Chamber of Commerce, the Maine Department of Labor, the Department of Economic and Community Development, and Maine HR Convention.
To be considered for participation, companies had to fulfill the following eligibility requirements:
Have at least 15 employees working in Maine;
Be a for-profit or not-for-profit business or government entity;
Be a publicly or privately held business;
Have a facility in the state of Maine; and
Be in business a minimum of 1 year.
Companies from across the state entered the two-part process to determine the Best Places to Work in Maine. The first part consisted of evaluating each nominated company's workplace policies, practices, and demographics. This part of the process was worth approximately 25% of the total evaluation. The second part consisted of an employee survey to measure the employee experience and was worth approximately 75% of the total evaluation. The combined scores determined the top companies and the final rankings. Best Companies Group managed the overall registration and survey process in Maine and also analyzed the data and used their expertise to determine the final rankings.
To learn more about Systems Engineering, click here. To speak to a Systems Engineering representative, call 888.624.6737 or email info@syseng.com.