Since 2008, Verizon has released its annual Data Breach Investigations Report (DBIR). This is a data-driven report on threats your organization may encounter in regard to cybercrime. The threats identified are the most common tactics used against organizations that resulted in a data breach. We use this annual source of authority for timely insights that can protect your company and its assets. This year, the DBIR analyzed 23,896 security incidents, of which 5,212, or 22%, were confirmed data breaches.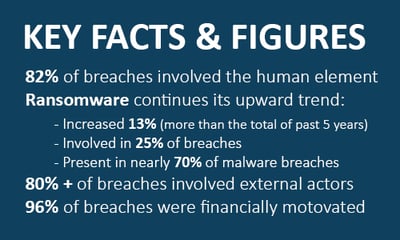 Below are the five critical questions you might have about a data breach:
How are they getting In

?
The DBIR identifies four critical paths leading into your network. Credential compromise (username and passwords) and successful phishing attacks represent a sizeable majority of compromised cases. For Systems Engineering, this leads us to two conclusions. First, the prevalence of successful attacks targeting an organization at the end-user level is at an all-time high. Second, deploying multi-factor authentication (MFA) and ensuring that your employee base receives high-quality and instructive end-user security awareness training provides the highest value security solutions to protect your organization against credential compromise and phishing attacks.