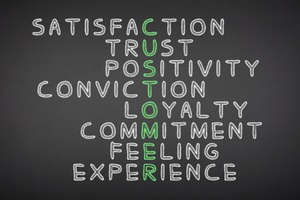 As someone who has been in the Technology Sales world for close to 20 years, I thought I knew most of the 'people' techniques it took to make connections and earn trust. I believe in what I sell because I know 'IT' helps businesses reach their goals, maintain success, and stay secure. That being said, there's more to the selling picture than meets the eye.
My 14-year-old daughter, Anna, was recently tasked with selling a catalog of items to support her Track & Field team's fundraising activity. I thought I could teach her a thing or two about selling, but when it came down to it, I learned a lot from her as she ended up with a 100% close rate (which is unheard of). Here is a list of the techniques she used.
Make a Personal Connection
Before she walked throughout our neighborhood and introduced herself to folks, she texted me (because that's what kids do now) and asked who lived at what house, who I was friends with, and what I knew about them. She took notes as I ran through the list of who lived where, how I knew them, and what I knew about them. With this background, she approached each house with an introduction that went something like, "Hi Mr. R., I am Allen's daughter. I think you're both friends with Mr. H. whose son runs on my Track team."
By doing this type of research, she was able to make a connection with someone before getting into the description of what she was selling. By that point, she had already earned their trust and they were willing to listen to her.
Know Your Products - How do they benefit the buyer?
While walking around the neighborhood and approaching people who knew nothing about what she was selling, Anna found a way to make everything sound enticing. Her common line after being asked what was being sold was, "We have a number of flavors of cookie dough, pumpkin rolls, and soft pretzels. I love the chocolate chip and snickerdoodles cookies, but you can't go wrong with a soft pretzel."
By sharing some of her own opinions, she was able to connect with the buyer on a personal level. Granted, technology is not like chocolate chip cookies, but we've all had our share of good and bad technology and can attest to what works and doesn't work.
Know Your Audience
At one point, I made a suggestion to Anna to visit a particular house on her selling expedition. She immediately looked at me and said, "Dad, I've been there in the past and they never buy anything." At first, I was thinking she should try anyway but, then I realized she wasn't going to spend time trying to make a sale that wouldn't happen. Instead, she spent her time making sales with those she knew would be interested. She knew her audience!
Cross-Sell When You Can
As she continued to walk the neighborhood, she made the suggestion of going to a house in which some new neighbors had just moved. When I asked her if she knew them, she replied, "Even if they don't buy any products from me, they have three kids and I might be able to babysit for them at some point." Again, I was impressed. She was cross-selling and I hadn't even suggested it.
Be Nice!
After I made a comment to Anna about her 100% close rate and how impressed I was, I asked her what she suggested I should do to get the same results. Her response? "Work on being cuter." I had to laugh as we're not all blessed with that attribute, but I understood what she was saying. By being nice and friendly, people are not going to push you away.
Oftentimes, as businesses determine whether they want to work with SE, I take them for a tour of the office and introduce them to my colleagues. By understanding that those I work with are nice, approachable, smart, and open to intellectual dialogue, it's a great selling point and one that doesn't push anyone away.
Conclusion
As I witnessed my daughter figuring out how to be successful to support her Track & Field team, I knew I could learn a lot from her. Her approach, techniques, and knowledge were all keys to her success and ones that we could all benefit from, whether selling or just working with others day-to-day.
To learn more about Systems Engineering and the people behind IT, click here. Questions? Email info@syseng.com or call 888.624.6737.
---
Allen Cornwall is a Business Developer at Systems Engineering and has been working with regulated industries and the changing technology landscape for more than 18 years. He has helped many organizations manage the convergence of voice, video, and data utilizing these technologies to provide excellent service to changing customer demographics.