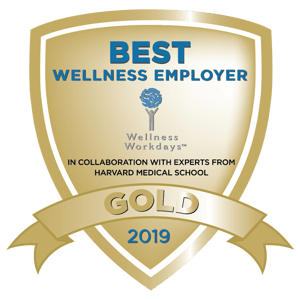 Systems Engineering announced today it has received a 2019 Best Wellness Employer Gold Certification from Wellness Workdays, a leading provider of corporate wellness programs.
The Best Wellness Employer program was developed by Wellness Workdays in collaboration with experts from Harvard Medical School in order to advance the field of worksite wellness by providing data and research about current practices and wellness outcomes. The program recognizes the significant achievements of employers dedicated to improving employee health and well-being.
In March 2019, Systems Engineering was one of 14 prestigious companies recognized with the gold standard certificate, and one of three Maine organizations to receive the honor. To see the full list of organizations that received 2019 Best Wellness Employer certifications, visit here.
To reach gold standard certification, each company is subject to a rigorous review in four categories: assessment, strategy, implementation, and evaluation. Gold certification status is the highest achievement, and the accomplishment signifies the organization has a strong strategy and commitment to employee well-being. Additionally, gold certification companies have been able to provide evidence-based information that they have an established and ongoing structured plan for assessing and implementing wellness strategies, which include objective measurements.
"We are about enabling exceptional outcomes for our clients, our community, and most importantly, our employees," said Lynne Gawtry, Director of Human Resources, Systems Engineering.
Significant Investment in Wellness
Systems Engineering, a 100% employee-owned company, began investing in worksite wellness programs in 2012, when the company partnered with Occupational Medical Consulting for weekly onsite private one-on-one behavior-change health coaching. The program is also being expanded to the company's Manchester, New Hampshire office.
In addition to one-on-one onsite coaching, Systems Engineering offers its 155 employee owners the following:
Twice daily stretch breaks (10 a.m. and 2 p.m.) to help employees break up prolonged sitting periods;
Activity trackers and a wellness platform with electronic gaming to support positive behavior changes and healthy competition; includes monthly health challenges;
A 1,000 square-foot gym at its Portland headquarters and an onsite facility at its New Hampshire office outfitted with cardiovascular and strength training equipment for employee use before, during, and after work;
Fitness club membership reimbursement.
Gawtry continued, "Not only have we created a special working environment that values creative and collaborative problem-solving, but we have also implemented a broad array of programs and benefit offerings that take into consideration the whole person and their families. As a 100% employee-owned company, we believe it's important to support the physical, mental, and financial well-being of everyone who steps through our door and starts rowing for our team."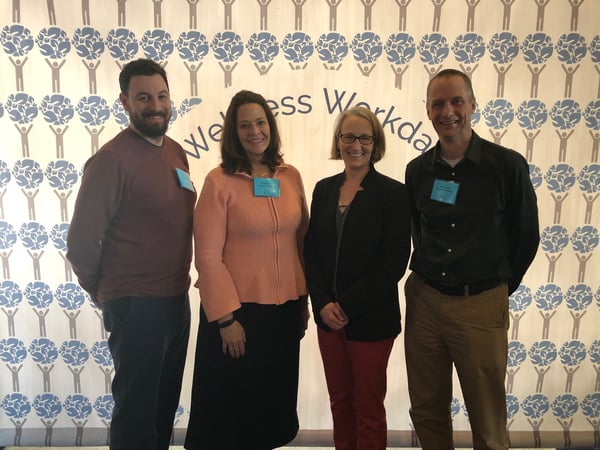 In the picture above, Systems Engineering Wellness Committee representatives attend the Wellness Workdays award ceremony to receive recognition for the Best Wellness Employer Gold Certification. (From left to right: Justin Custer - Help Desk, Susan Massey - HR, Lynne Gawtry - HR, and Michael Gray - Project Management.)
Looking for a new career with a company that has a good work/life balance? Check out Systems Engineering's open positions.