A common trait of successful businesses is recognizing how to optimize the value of its staff and third-party partners for sustainable growth. Organizations can maximize returns by ensuring employees focus on the high-value tasks they were hired for and finding alternatives for the business's general, repeatable, and scalable needs. When applied to your information technology (IT) operations, this principle is known as hybrid IT services.
Business leaders can make better-informed decisions about the value of IT operations by analyzing each function for efficiency, cost reduction, improved product or service quality, enhanced customer satisfaction, and competitive advantage. Then consider a hybrid IT services model: designed to focus IT resources and investments for increased business value.
The function of information technology, as the name suggests, comprises two major categories.
Information:

Applications and Data (Insourcing)
Technology:

Infrastructure (Outsourcing)
We will explore further how these two IT categories (insourcing and outsourcing) work together as the foundation for the hybrid IT services model, promoting sustainable growth and business value.
Relationship Between Role & Business Value
When considering business value, we need to analyze the tangible and intangible costs of internal resourcing compared to outsourcing IT operations. The right balance of both optimizes your investment, improves customer experience, and leads to a healthier bottom line.

Looking through the lens of IT operations, let's review the various company roles and their relationship to overall business value. The graph below represents your overall IT operations, divided into two functions:
Applications and Infrastructure
On the right, you can see various business roles associated with IT operations.
The bottom of the graph represents the ideal amount of time spent with applications and infrastructure functions according to organizational roles.
To the left, you can see business value and time spent with each function represented according to the role.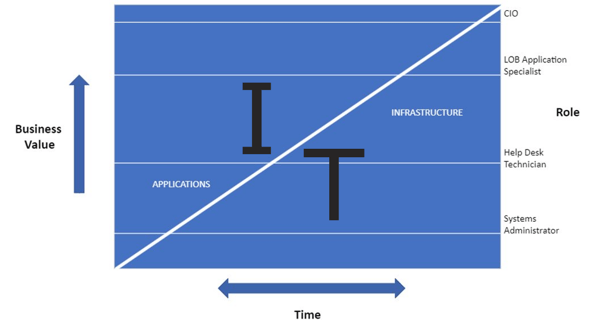 The graph shows that having your Systems Administrators spend large amounts of time on managing infrastructure will bring less business value to your organization than technologists who manage line of business applications and drive business process optimization and end-user adoption. Likewise, as a CIO, you want to avoid handling infrastructure functions best left to others within your IT operations.

The concept that LOB applications require business-specific specialization is the rationale for insourcing this practice, making management difficult to outsource. Conversely, properly designed IT infrastructure requires standardization and multi-disciplined, specialized skill sets, making it a logical outsourcing opportunity.
A Case for Insourcing Application Management
All companies use applications to address and support specific business needs. LOB application tools are available for everything from accounting, construction, document management, inventory, project management, workflow, CRM, ERP, etc. Some businesses even have custom applications built when no great off-the-shelf options are available.
Evaluating, deploying, and supporting LOB applications will be unique to every organization. The LOB applications and the data created and accessed through them help your business operate, remain competitive, and fundamentally understand how you're performing. Internal staff will be more familiar with business operations and provide the most effective support for LOB applications.
Here are ways insourcing applications and data can boost IT business value:
Support your competitive advantage: Insourcing allows businesses to fully control their LOB application information. This control can be valuable for harvesting business intelligence, for competitive advantage, or in situations where confidentiality or regulatory compliance is critical.
Support automation: By developing the skills and knowledge of your internal staff, they will have a deep understanding of your LOB application and systems. They will also recognize processes and functions that can benefit from automation. Your team can then focus on further customization to drive operational excellence.
Enhance employee productivity: Effective communication and collaboration between IT and business users are essential for supporting LOB applications. When insourcing application administration, your staff works together in real-time, enhancing efficiency and increasing productivity.
A Case for Outsourcing Infrastructure Management
Poorly designed and managed IT infrastructure introduces considerable risk to a business operation. To achieve operational maturity, you need properly designed IT infrastructure maintained on standards. The typical components of your IT infrastructure include:
core computing (servers, PC's, laptops)
an intricate network (wireless access, hard-wired switching devices, firewalls)
secure cloud access (Microsoft 365, IaaS, SaaS)
advanced applications (virtualization, data replication)
cybersecurity
compliance (regulatory, partners/clients, cyber insurers)
Properly maintaining standards-based IT infrastructure requires knowledge of various technical disciplines and specialized skill sets. Staying current requires ongoing training and manufacturer certifications. Along with the rapid rate of change, these requirements make it a challenge to staff these roles internally without constant recruiting and significant budgets. Because effectively maintaining the day-to-day IT infrastructure operations requires a multi-disciplined and specialized skill set, Managed IT Services infrastructure is more accessible and cost-effective to outsource.
Below are some beneficial outcomes of outsourcing your IT infrastructure support to a qualified managed service partner (MSP):
Existing staff can focus on core business functions: You can prioritize strategic initiatives and core commitments when outsourcing IT infrastructure. Partnering with an operationally mature MSP can provide an infrastructure built on a standards-based design by certified and specialty-trained staff, especially when referencing emerging technologies. An MSP can provide those specialized skills and knowledge that may not be available in-house.
Economical support: Outsourcing your infrastructure can be economical by avoiding the high cost of hiring, training, and retaining employees with specialized skills in all aspects of IT operations. Additionally, if you are a business operating with aging infrastructure and equipment

(technical debt), outsourcing to an MSP for cloud migration and ongoing management can be economical for supporting your IT infrastructure.
Flexible, scalable, and reliable IT: Outsourcing gives your business more dependable IT services. You will have access to 24x7 support, multi-disciplined technology groups, and business continuity in the face of external challenges. An outsourced provider ensures zero sick time, zero vacations, and zero fear of resource losses.
Access to established vendor relationships: The infrastructure side of IT operations requires management of various hardware, software, etc., all of which come with a backend vendor relationship. An MSP will have an established and extensive line of communication and support that affords:
a. faster resolution of issues resulting in minimized downtime for clients,
b. the ability to negotiate favorable pricing and terms that the MSP can pass on to clients,
c. and access to the latest and innovative technology solutions to keep clients competitive.
Overall, the hybrid IT services model is a practical and widely adopted approach to IT management. When insourcing application management, your internal resources should focus on core business functions that support the unique nature of your business. Your team has the specific task of accomplishing business goals and maximizing your organization's value.
In contrast, infrastructure management is better outsourced to an experienced MSP that is scalable and specialized. The outsourced infrastructure model will address the rapid rate of change associated with IT infrastructure and the ubiquitous need for coverage, maximizing your investment and increasing overall business value.
The ultimate choice between insourcing and outsourcing will depend on your needs and goals. If you would like to discuss the possibility of a hybrid IT services model in further detail, contact us, and we will be happy to set up a conversation.
---

Jon Henderson has been with Systems Engineering for over a decade. He has an extensive depth of knowledge in current IT practices and considerations that span multiple industry segments. Jon is well versed in Info. Sec. practices, data breach preparedness, and posture requirements for regulated environments - HIPPA, GLBA, and PCI.