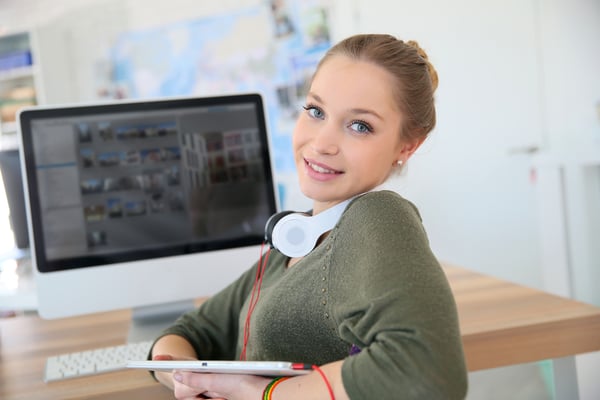 Cloud-Based Modern Desktop
Many organizational networks are now cloud-based, allowing end users to connect from literally anywhere at any time, and with any device. Businesses who look towards enabling employees with a "Modern Desktop" environment typically want to meet these objectives:
Empower staff through collaboration
Enable business productivity without interruption
Enhance security posture
But not everyone knows what a "Modern Desktop" is, or how organizations establish that type of setup. "Modern Desktop" is Microsoft's definition of Office 365 + Enterprise Mobility/Security + Windows 10 Enterprise. Microsoft's "Modern Desktop" includes these licenses and features: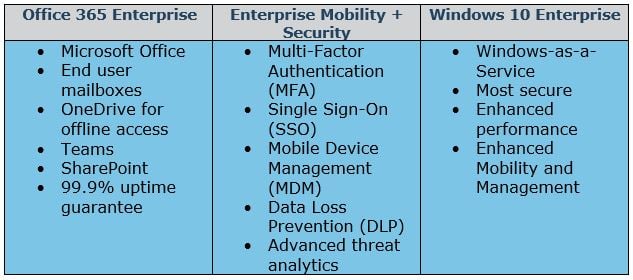 The solutions above provide end users with a seamless way to easily access documents and collaborate with one another real-time; ensure security through enhanced identity-based authentication and access; and promote productivity without interruption.
However, organizations cannot consider their setup "complete" once their Modern Desktop is established. Although there is a high availability SLA, in the Office 365 platform, there is still a need for backup and restore capabilities should the need arise. Let's take a look as to why that is.
Backup and Restore
When it comes to backup and restore capabilities for Office 365 Exchange, SharePoint, Teams, and OneDrive for Business data, Systems Engineering recommends solutions that provide:
Scalable, cloud-to-cloud data backup with unlimited storage
Control over retention from one year to forever
Backup that occurs multiple times a day
Secure data storage
Advanced search capabilities to find the data you need
When deciding which option is the right one for your organization, it's always best to speak to a representative who knows your business needs and goals, the solution options available, and your compliance requirements.
Security
Enterprise Mobility + Security (EMS) is a component of "Modern Desktop" in the table above. Although it encompasses several security enhancements and features, it's important to understand which of these security tools makes the most sense for your organization. That's where Systems Engineering's Cloud Security comes in—Microsoft's EMS tools coupled with Systems Engineering's migration and security tool experience. The tools included are:
Multi-Factor Authentication (MFA)
Single Sign-On (SSO)
Mobile Device Management (MDM)
Mobile Application Management (MAM)
Data Loss Prevention (DLP)
Azure Information Protection
App security
Advanced Threat Analytics
At Systems Engineering, we can recommend what works best for your company and help with the migration process. This will alleviate the complexities and adoption period, while also securing your business' network with the best tools.
Conclusion
Enabling your business with Modern Desktop is a win-win, but without backup and restore, or enabled security features, your organization will be a hacker's low hanging security fruit.
To read more about Modern Desktop, download our white paper titled A Modern Desktop for a Digital World.