At Systems Engineering, employees are our number one resource. Our success depends on our dedicated and skilled staff who share our values and contribute to our vision. SE Spotlight gives a brief but revealing look at one of our valuable members.
Name: Bradford Sprague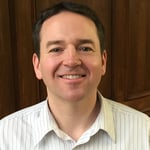 Department: Sales
Title: Manager, Account Management
Length of service: Twelve years
Systems Engineering: As an account manager, you work closely with our clients. How do you help them with their IT needs?
Brad: As an SE Account Manager, we are responsible for the relationships with our clients. We need to have an understanding of not only the full range of our services and technologies, but also our clients' businesses. This requires us to have a deep understanding of how companies do business in order to enhance their experience using technology.
For my clients, I am a thought leader for all things IT, developing strategic plans, multi-year budgets, and IT support plans. SE Account Managers overall are "go-to's" for our clients and co-workers for intricate issues and service needs.
Systems Engineering: What does a typical day look like for you?
Brad: Every day is different and at the end of it, I find I have rarely spent my day how I anticipated. I meet with different clients on a daily basis in person or via phone, WebEx, or video conference. I prefer to establish an appropriate cadence for regular tactical and strategic planning meetings. I am a big fan of using technology not only to have more effective communication, but to buy back some of my day. If I can have a face-to-face appointment with a client using video, this saves travel time, enabling us to meet with them more frequently, and be more available in general. This does not replace in person interactions, but rather complements them.
I also work with fellow employees to ensure that we are providing the best possible experience to our clients. We collaborate on the hand-off of new projects, solutions and proposal developments, review of clients' maintenance contracts, etc. A rewarding day for me is one where I have been able to meet with two to three clients and feel that I have advanced the ball on their organizational goals.
Systems Engineering: We heard you moved recently. What else are you up to?
Brad: Yes, I did. I grew up in southern Maine and have really developed a great appreciation for it since becoming a father to two boys. We recently moved to Gorham where my wife and I are looking forward to raising our children. I live for my family and am working on introducing my kids to some of my passions which include downhill skiing, running, obstacle-course races, and watching football. In the summer, you'll find us at my family's camp almost every weekend. In the winter, we are in the mountains skiing, snow shoeing, or sledding. In the fall, you might notice the twinkle in my eye that comes with the return of a good "beer season!"