At Systems Engineering, employees are our number one resource. Our success depends on our dedicated and skilled staff who share our values and contribute to our vision. Our Employee Spotlight gives a brief but revealing look at one of our valuable members.
Name: Kelly Ridley
Department: Project Management
Title: Project Coordinator
How long have you been at Systems Engineering? Since 2016.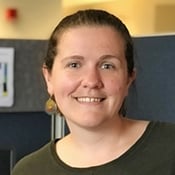 Systems Engineering: What do you do at Systems Engineering?
Kelly: I am a Project Coordinator who toggles between Customer Service and Project Management. I work collaboratively with clients, Sales, and engineering to set up engineers for successful client interactions whether it be a network admin, PC deployment, or a network upgrade. I need to be able to adjust and prioritize the day on the fly and make sure that there is open communication to everyone involved.
Systems Engineering: What does a day in the life look like for a Project Coordinator at Systems Engineering?
Kelly: It's important to Systems Engineering that our clients are able to get in touch with us so I am always available to speak with our clients and assist them with their needs. When I'm not on a phone with a client, I am working on projects. I take care of engineering schedules, resolving customer service escalations as they come in, and helping out other team members as needed. At the end of the day, the Project Management team's goal is to make sure projects are in a good place to move forward the next day and that everyone is set up for success.
Systems Engineering: If someone wrote a biography about you, what do you think the title should be and why?
Kelly: I would call it "My Life after Prison." It's a catchy title and gives it some good, old-fashioned shock value. Please don't get me wrong, I have never been in prison. However, I did work at a correctional facility once upon a time.
Systems Engineering: What do you do when you're not at work?
Kelly: I grew up on a small farm where we raised 4-H animals. To this day, l like to help out my family at my home town fair when my nieces and nephew are showing their animals. I also enjoy spending time with my yellow Labrador Retriever, Luna, reading books, and crocheting.