If you've been in or around information technology (IT), you are most likely familiar with Unified Communications and Collaboration (UCC). If not, maybe you've heard of its subscription-based cloud-delivered model, unified communications-as-a-service (UCaaS). Gartner breaks UCC into six broad communication functions:
Voice and telephony, including mobility support
Meeting solutions — audio conferencing, video conferencing, and web conferencing
Messaging — email with voicemail and unified messaging (UM)
Presence and instant messaging (IM)
Clients — including desktop clients and thin-browser clients
Communications-enabled applications — Communications platform-as-a-service (cPaaS) and workstream collaboration (WSC)
Over the past decade, we have seen a major evolution in the variety and quality of communication technologies which has dramatically improved our ability to communicate effectively with one organization or across multiple organizations. In the era of the cloud and mobile workforces, UCC/UCaaS is giving businesses today the ability to drive staff productivity and efficiencies on any device, anywhere, and at any time without breaking their budgets.
As technology leaders or champions, we are tasked with selecting UCC tools, deploying them in the right way, and offering training. This way, the tools are adopted to ensure the business doesn't miss out on the operational return-on-investment (ROI) through an increase in productivity.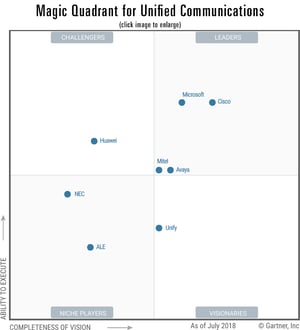 Each year, Gartner publishes a Magic Quadrant for Unified Communications illustrating vendors capable of offering a comprehensive UC portfolio alongside a significant market presence. In the Magic Quadrant for UC image (click to enlarge), we see two clear leaders that emerge in the top right quadrant; Cisco and Microsoft.
Cisco WebEx Teams/Meetings
Webex Teams is an application-driven cloud platform for continuous teamwork with secure video meetings, group messaging, calling, file sharing, and whiteboarding. It can act as a collaboration client, a video conferencing and meeting solution, a phone system, or all of the above in just a single app. This means you don't have to switch between multiple tools. Beyond the desktop and mobile version of the app, it can interact with Cisco hardware on the desktop and in board rooms for a fluent feel and experience.
Microsoft Teams (formerly Skype) / Surface Hub
Microsoft Teams brings together the full breadth and depth of Office 365, providing a true chat-based hub for teamwork while providing customers the opportunity to create a more open, fluid, and digital environment. Microsoft Teams is built on existing Microsoft technologies woven together by Office 365 Groups. The Surface Hub is the Microsoft Conference Room device that interacts with the Office 365 platform for screen sharing, video meetings, whiteboarding, and communication control.
In today's world, your employees, clients, and business partners are expecting to connect with you in the way that works best for them. If the options aren't provided for your staff, they will look for ways to collaborate on their own and find solutions known as Shadow IT (the use of unauthorized apps and devices).
At Systems Engineering, we have seen many of our clients find value in UCC/UCaaS solutions as they realize making business happen wherever, whenever, and on any device is a tremendous business benefit that cannot be denied.
As 2019 budgeting season is upon us, it is a great time to think about how your business could benefit from a robust unified communication and collaboration solution. If you want to learn more about UCC/UCaaS and determine which solution is right for your business, reach out to us at info@systemsengineering.com or via phone at 888.634.6737.