At Systems Engineering, employees are our number one resource. Our success depends on our dedicated and skilled staff who share our values and contribute to our vision. Our Employee Spotlight provides a brief but revealing look at one of our valuable team members.
Name: Adrian Wells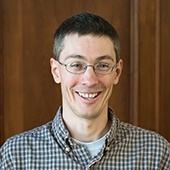 Department: Product Management
Title: Product Specialist
How long have you been at Systems Engineering? Since 2007
Systems Engineering: What do you do in Product Management?
Adrian: I work with technology vendors to understand their solutions, identifying solutions that provide the most value for our clients. I am also continually evaluating new features and functionality within our current product offerings. Once I have a firm grasp on a solution, I educate and equip our team to be successful in communicating the benefits of the those technologies to enable customer success.
Systems Engineering: What does your typical day look like?
Adrian: Lately, I have been busy further adopting and being current with Microsoft Azure and Office 365 platforms. I also work with many internal teams to ensure quality deployment of all solutions. But on most days, I do a lot of researching and testing.
In a nutshell, my job is to find solutions that align with our service offering, ones that enable our clients have peace of mind with their technology so they can focus on running their business.
Systems Engineering: At the end of the day, what is one thing you hope gets accomplished?
Adrian: I hope to find the best solutions for our clients while providing a good customer experience in the process. I do this by listening their needs and then researching solutions that address them. There are a number of technologies clients can choose from but I like to think we make it easier for them by weeding through and vetting the multitude of solutions out there, landing on the one that works for them.
Systems Engineering: When you're not at work, what do you like to do?
Adrian: My passion is learning about new technologies. So my job is perfect for me as I am constantly exposed to all sorts of interesting technologies. When I'm not exploring new technologies, I enjoy getting involved with community events as well hiking and kayaking with my family.