Systems Engineering (SE) is pleased to announce the continuation of its internship program in 2017. This summer, we elected to have eight college students join our program, up from five participants last year. Students come to us from a number of schools including, Southern Maine Community College, University of Maine (Orono), Roanoke College, Kennesaw State University, and Champlain College.
"Labor market shortages in the IT industry have made recruiting for great talent more challenging than ever. Having an intern program focused on technology, creates a valuable opportunity to connect students to real-world work experience not only helps the students, but also helps Maine. Internships are a critical component to developing a talent pool we can draw from in the future," said Susan Massey, SE Human Resource Manager.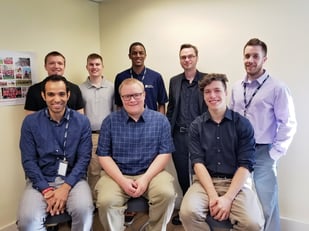 This summer's interns chose to join SE to get real-world experience in a technical, professional services environment. With guidance from SE managers and mentors, they will gain a firm understanding of the outsourced IT solutions we offer and how they help our clients solve the technology challenges they are faced with. Through our program, interns will grow professionally by obtaining valuable customer service, troubleshooting, project management, presentation skills and more.
In addition to developing their skills, interns are immersed into SE's culture which is tied directly to our mission: To deliver engineering excellence and superior customer service.
Though only here for the summer, interns are encouraged to participate in all company events including our engineering summit, departmental meetings, internal training, team sporting events and much more.
SE's summer intern program runs from May 30 through August 25, 2017. We welcome the following interns to Systems Engineering (listed left to right, front to back, as pictured above):
Razzaq Alansari to Engineering
Tanner Kelley to Engineering
Taylor Yarn to Product Development
Nicholas Pittman to Engineering
Mark McGillicuddy to Engineering
Donovan Taylor to Project Management
Eric Mekkelsen to Help Desk
David Gavitt to Help Desk

For more information about Systems Engineering's intern program, contact employment@syseng.com.