Designation gives New England based IT provider the ability to assist U.S. defense contractors and subcontractors with Department of Defense security compliance requirements.
PORTLAND, MAINE, March 30, 2022 — Systems Engineering announced today that the company has earned Cybersecurity Maturity Model Certification (CMMC) Registered Provider Organization status, or RPO. The RPO designation is a necessary credential to provide guidance to defense contractors and subcontractors who are required to adhere to the CMMC framework. As a CMMC RPO, Systems Engineering works systematically with organizations in the Defense Industrial Base (DIB) to achieve and maintain rigorous levels of data and information security required to work with the U.S. Department of Defense (DoD).
"With the threat of cyberattacks ever-present and growing, System Engineering is well prepared to help defense contractors achieve required levels of security," said Erik Thomas, Director of Advisory Services at Systems Engineering. With Russian cyber threats looming, the White House last week released a new Fact Sheet: Act Now to Protect Against Potential Cyberattacks. "This heightened concern about Russian cyberattacks is just one of the reasons for defense contractors to have an experienced and credentialed resource available to them to implement CMMC security requirements so that they can continue to earn defense contracts."
Systems Engineering not only helps organizations achieve CMMC compliance, but the IT security company also provides ongoing guidance and services designed to maintain an ever-evolving level of compliance.
The Importance of the
Cybersecurity Maturity Model Certification (CMMC)
In the interest of protecting American ingenuity and safeguarding national security information against an increasing number of foreign and domestic cyberattacks, the U.S. Department of Defense (DoD) developed the Cybersecurity Maturity Model Certification (CMMC) program to strengthen security within its Defense Industrial Base (DIB). In November of 2021, the DoD introduced the newly revamped CMMC framework. CMMC is organized into a three-tier model that requires companies entrusted with national security information to achieve a progressively advanced CMMC level, depending on where Controlled Unclassified Information (CUI) or Federal Contract Information (FCI) is processed, stored, or transmitted. This protection also applies to information shared and exchanged with organizations in a multi-tier supply chain. The flow down of CMMC requirements is necessary to respond to threats that reach even the lowest supply chain tiers.
In essence, CMMC is a uniform set of security and data protection standards designed to protect federal contract and unclassified information within the defense department supply chain. The framework is expected to impact over 100,000 organizations nationwide that must now conform to CMMC based on the National Institute of Standards and Technology Special Publication 800-171 "Protecting Controlled Unclassified Information in Non-Federal Systems and Organizations." You can watch this video about CMMC for more information.
How Systems Engineering Will Use CMMC RPO Credentials to Assist Contractors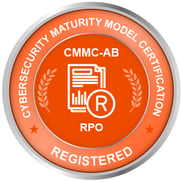 As a CMMC Registered Provider Organization, Systems Engineering helps organizations prepare for CMMC compliance beginning with a CMMC Gap Analysis to compare policies, procedures, and technologies to the controls required to achieve the appropriate CMMC level. The analysis is performed by a Systems Engineering CMMC Registered Practitioner (RP) who reviews an organization's existing controls to highlight deficiencies and obtain a clear picture of their compliance posture. The CMMC Gap Analysis also provides recommendations and suggested solutions to close existing gaps. With Systems Engineering's CMMC Compliance Service, organizations that need support to achieve and maintain CMMC compliance are paired with a CMMC RP who closely monitors their compliance levels and addresses compliance obligations on a continual basis.
About Systems Engineering
Systems Engineering is a 100% employee-owned IT strategy and managed services provider dedicated to enabling the exceptional in clients nationwide with offices in Portland, Maine, and Manchester, New Hampshire. Systems Engineering routinely undergoes a SOC 2 audit to ensure the organization meets the standards dictated by the Trust Service Principles (Security, Availability, Processing Integrity, Confidentiality, and Privacy). As a result of successfully completing yearly SOC 2 audits, Systems Engineering clients are assured that policies and procedures are consistently followed. System Engineering's team of 150+ network engineers, managed security professionals, project managers, data management experts, and account managers are available 24×7, 365 days per year to meet the needs of our clients. From network design and installation to a full complement of managed IT, IT security, and cloud services, we have an IT solution that will allow your organization to reach its full potential – and enable the exceptional.
---
Please send media inquiries to info@systemsengineering.com.