It's been a little over a year since the official release of Windows 11 in October 2021. During this time, we have been deploying it to customers upon request, and our engineering teams have been assessing and monitoring the latest OS for stability and quality issues. We recently completed the evaluation and can report that our systems and services are now compatible with Microsoft Windows 11 for workstations, and ready to support our clients as they move onto this new OS.
When it comes to Windows 11, Microsoft's goal was to simplify its design and create a user experience that empowers productivity and creativity. While it may seem as if you just upgraded to Windows 10, keep in mind that Microsoft traditionally supports OSs for ten years. By releasing Windows 11 now, they are providing you ample time to plan and migrate to Windows 11.
The question clients are asking is, "Should we upgrade to Windows 11

?

"
Yes, and

start planning now

.
Windows 10 goes end-of-support with Microsoft in October 2025. This means Microsoft will no longer provide technical support or security updates for the platform. With only three years left, it's the perfect time to start planning for the move. A carefully planned transition will ensure your applications and workstations are compatible with the new OS, your budget requirements are known, and that your organization is ready for the change.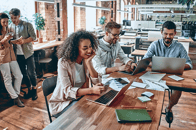 To assist our customers with this transition, Systems Engineering is now ordering all new laptops and desktops with Windows 11. For the time being, these include the right to downgrade to Windows 10. However, we do not recommend this action unless there are specific application compatibility issues.
To begin transitioning to Windows 11, we recommend you do the following:
Assess any crucial business applications as to whether the vendor supports the use of Windows 11. If not, it's worth finding out when they plan to.
Use newly purchased Windows 11 workstations in a small group to become familiar with the new OS. For many, this will not be a dramatic change from Windows 10.
Plan for replacing or upgrading compatible hardware within the next two years. Windows 11 comes with stricter hardware requirements.
Reach out to your Systems Engineering Account Manager to support your upgrade and project's success.
IMPORTANTLY: If you are running an unsupported OS like Windows 7, for example, there is an urgency to upgrade due to security risks. Please contact us immediately to evaluate your options.
For more information please refer to these two Microsoft posts on the differences between Windows 10 and 11 and Windows 11 hardware requirements.