As you begin to adopt cloud-based services, your network becomes more expansive and potentially more porous. Today, you most likely have a flexible hybrid workforce who are working remotely using a mix of personal and company-issued devices to access your network and its critical data. It may be the case that your data is now being shared and stored in platforms that may not be approved or known by your IT department. These examples demonstrate vulnerabilities within your network and we outline the cloud security essentials your business should have in place to reduce and mitigate cloud threats.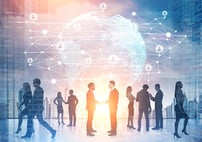 A heightened concern in a cloud environment is the ability to securely manage and control access to your sensitive data and apps. It is critical to:
Have the right controls in the right places,

Create parameters around the network and data access,

Identify which employees can access what applications, and

What data an employee can access and share, with whom they can share it, and on what type of device.
Cloud Security Essentials
Here are 5 critical cloud security measures that can effectively protect your organization from today's sophisticated cyberthreats:
1. Cloud-Based Active Directory
Synchronize your users, permissions, and authentication requirements across disparate applications and services by extending Active Directory to the cloud (Azure AD.)
2. Multi-Factor Authentication
Multi-Factor Authentication, or MFA, supplements your password requirements by requiring two or three layers of identity verification before granting someone access to your apps and files. It's a multi-step process that can reduce the chances of a cybercriminal successfully gaining access to your network even with stolen credentials.
3. Identity and Access Management
Managing user identities and access levels are becoming increasingly important for IT to get right as these are primary entry points to your important systems and resources. Identity and Access Management (IAM) manages two critical functions:
Identities:

who they are, what device they are using, where they are located and

Access

: what they can access on your network, such as files, applications, systems, etc.
3. Mobile Application Management
MAM solutions provide encryption services and management features that allow for mobile data access while retaining your organization's ability to control risk. Additionally, if an employee leaves your organization, these tools can execute a remote wipe of very specific applications and data from the former employee's devices.
5. Encryption
Encryption doesn't only apply to email anymore. When doing business in the cloud, it is necessary to encrypt a host of other data points such as offsite backups, server hard drives, and WAN circuits. Other considerations for encryption include the path from your firewall to your hosted VoIP service's data center or the email app your employees use on their phones. Working from anywhere introduces risk everywhere.
At the heart of all these cloud security essentials are your employees. They are your best layer of defense. Invest in security training and obtain cloud security resources and essentials that enables them to work efficiently and securely from anywhere.
---
To learn more about enabling cloud security within your organization, select the link above, call Systems Engineering at 888.624.6737, or email us at info@systemsengineering.com. Clients, please reach out to your Account Manager.