In 2018, there was 49.8 million tons of e-waste generated worldwide. The US contributed a staggering 10 million tons of this waste, and our share is growing. As environmental and health concerns arise over the ever-increasing e-waste, it is the responsibility of everyone to ensure its proper disposal.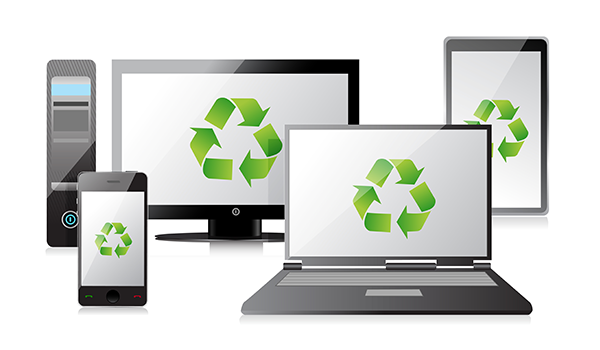 What is e-waste?
E-waste is electronic devices and components that are no longer wanted, whether they are working or not. This includes items such as monitors, laptops, batteries, printers, tablets, the list could go on.
Why is it a priority?
Protection of the Environment and Our Health
When discarding these items, they should never end up in regular landfills. E-waste disposal is a source of concern as most electronics contain chemicals and substances which can create environmental and health hazards. They also contain precious metals and other materials that can be recovered, saving energy from mining or manufacturing new.
Security & Compliance
Depending on the device that is set to be discarded, it may contain sensitive information, such as Personally Identifiable Information (PII), Personal Health Information (PHI), or social security numbers. In order to remain compliant and under NIST 800.88, all data needs to be electronically removed, or devices made 100% inoperable before disposal.
Federal and State Laws
More e-waste handling laws are appearing to ensure the proper disposal or reuse of equipment. Depending on your company's size, you may have full responsibility for the safe disposal of e-waste. Creating a comprehensive e-waste program can help your business track the chain of custody from when it leaves your office to reuse or recycle. This closes the compliance loop from your facility to the actual fate of each device.
Ways to handle e-waste.
Reuse or Recycle
When e-waste is disposed of correctly, it can reduce the adverse conditions it can have on our environment and on those who process it. By employing the concept of reuse, the amount of e-waste recycled is significantly reduced.
If you can't reuse it, recycling is an alternative way of handling old electronics. Many of the materials, such as metals, glass, and plastics in the electronic device, can be recycled and used for other purposes.
E-waste Policy at Systems Engineering
At Systems Engineering, secure handling of client data and practicing good environmental stewardship is part of what we do. As such, we will be implementing a new policy removing us from the electronics recycling stream. Systems Engineering does not have the processing facility for a certified chain of custody, data destruction, wipe, or the disposal services required to be compliant with multiple federal and state regulations.
E-waste Services
If you are a Systems Engineering client, get in touch with your Account Manager. They can introduce you to a nonprofit e-waste service called the Information Technology Exchange (ITE). ITE has a secure recycling operation, including a certified electronics reuse and recycle program known as eWaste Alternatives*.
By establishing a direct relationship with an R2/RIOS certified e-waste vendor, your business can responsibly dispose of its e-waste, safeguard its data, and protect the environment from the hazards of e-waste for years to come.
* The Information Technology Exchange's (ITE) eWaste Alternatives serves businesses throughout New England and New York.
---

Mark Benton is the Director of Product Management at Systems Engineering. He has over 30 years of experience in Information Technology and is responsible for overseeing the onboarding of new products and services for Systems Engineering and its customers.