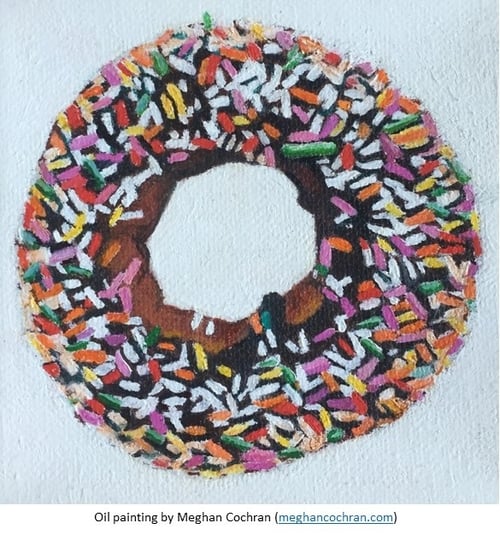 It's difficult to find a connection between Information Technology (IT) and, say, donuts. You're probably thinking, "There's no connection at all," and that's not far from the truth. Physically, these two "things" have no connection whatsoever; one is a strategic and streamlined way of keeping an organization thriving, the other is something mouth-watering and tasty to eat. So, where is the connection that I write of?
The connection between IT and donuts comes from Systems Engineering's (SE) history and now, it's part of our culture. Some would even say it's how IT began for SE. So, let me back up to explain for a moment...
... all the way back to 1988. SE's Founder, Harry McMann, sat on a bench in Tommy's Park in Portland, Maine with a box of donuts. From that strategic position, he decided which local company he would introduce himself to and the donuts were his way of getting in the door with a 'warm welcome.' After he shared his donuts with whoever he was welcomed by, he began to explain his company's (SE's) concept which, at the time, was computer and printer hardware - selling and repair.
Whether it was the donuts or Harry's pitch, his client list began to grow and most of those customers were within walking distance of Exchange Street where his small office was located. At the time, Harry's number of employees could be counted on one hand, but, with a lot of hard work and determination, they thrived and so did SE.
Now, let's fast forward...
... to 2018. With 155 employees and counting, SE continues to grow and thrive. Computer and printer hardware has evolved into strategic, managed IT solutions including Security, Cloud, Consultative, and Software Services.
"And the donuts?" you ask. Well, they make an appearance on a weekly basis, 52 times a year. Every Friday, dozens of yummy, sweet, soft, and decadent donuts (made by The Cookie Jar) mysteriously arrive at our doorstep on Exchange Street for all employees to enjoy. As we gather around our boxes and boxes of donuts, fun conversations about the week occur, laughter pops in, and our culture thrives with the success of the company.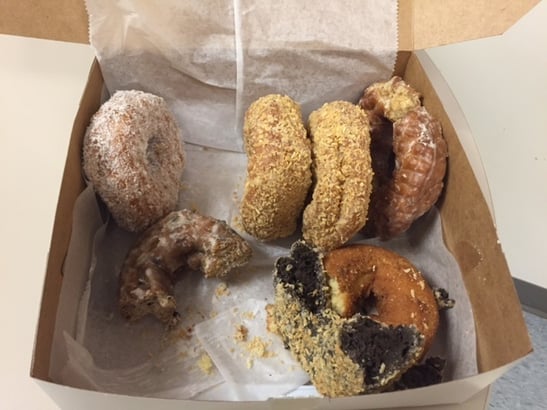 As we celebrate our 30th year, the employees, IT services and solutions, and donuts multiply. So, although some may think there is no connection between IT and donuts, we would have to disagree.
To learn more about Systems Engineering, turn up your volume and watch the video below. To speak to a SE representative, email info@syseng.com or call 888.624.6737.