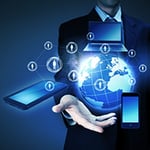 MDM or mobile device management is a trending topic for many organizations; however, few have determined a clear need and strategy for deployment. For many, the existing MDM functionality in Exchange Active Sync may be sufficient while others need to meet specific regulatory requirements for securing information stored on mobile devices.
If you are you considering adding an MDM solution to your security portfolio, there are a variety of solutions to consider, each having their own strength and weaknesses. So, before selecting one, ask yourself:
Who owns the devices you need to secure? Are they employee-owned, corporate-owned or a combination?


Do you know what legal and human resources concerns should be addressed prior to implementing a BYOD policy?

What information are you looking to secure?

Where is the information; on your servers or in the cloud?

What type of devices are they; Apple, Android, or Windows?
Importantly, think about how securing mobile devices will impact the user. Will they be okay with a six or eight-digit pass code? Will losing the ability to share data between personal and business applications be a major inconvenience? These are some of the trade-offs you will need to think about as you look to better secure mobile devices in your work environment.
If you decide employees can use their own devices (also known as BYOD), have them sign an Acceptable Use Policy (AUP). Ensure your AUP clearly defines how business information is to be handled and include the organization's right to fully wipe the device if needed. In addition, understand the legal and HR risks of employees having 24x7 access to business email and other sensitive information.
To speak to a Systems Engineering representative about MDM and BYOD, email info@syseng.com or call 888.624.6737.