In the coming year, how will your organization be less vulnerable to security threats, remain in compliance, and continue to receive the latest product support?
Quick answer: Upgrade.
Review the chart below and ensure that your Microsoft products are not about to expire. The chart quickly points out some significant end-of-life/support dates that are on the horizon for some of the more popular Microsoft products, including Windows 7, Exchange 2010, and Office 2010.
It seems these dates are far out, but in reality, upgrade discussions should begin now in order to prepare appropriately. By applying upgrades before products fall out of support, your business will be less vulnerable to security threats, remain in compliance, and continue to receive the latest product support.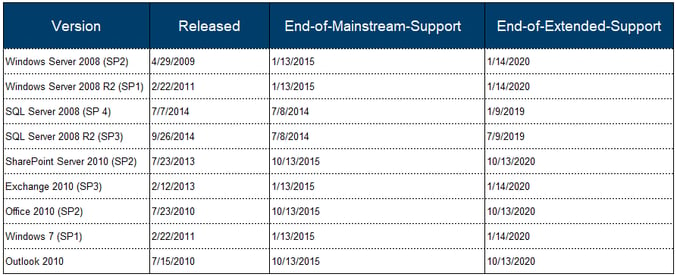 With the introduction of Microsoft Office 365, there are now more stringent requirements to remain compatible with Microsoft cloud services. While Office 2013 does not go end-of-extended-support until April 11, 2023, as of October 13, 2020, Office 2013 will no longer work with Office 365. As recently as the summer of 2017, Microsoft announced that Office 365 would only support Office 365 Pro Plus or perpetual licenses in mainstream support.
However, replacing a Windows server, desktop operating system (OS), or even your Office application isn't as straightforward as it used to be. Much has changed since Windows 7 was released in 2009. Microsoft is now more focused on offering cloud-enabled technologies, giving small- to medium-sized businesses a compelling path to the cloud. An example is Microsoft's 'Modern Desktop' offering which covers the operating system, collaboration tools, and mobile security all in one nice bundle. With that, however, comes the opportunity for businesses to think about their cloud participation. Businesses can take this time to evaluate their daily operations and refine processes that no longer support operational goals.
Here are some questions that should be posed when upgrading to cloud-capable technologies:
How do you currently view IT? Is it a cost center or business enabler?
Do you want your technology to be scale-able and more agile?
Are you thinking about mobile capabilities with your employees?
Do you want access to the growing list of cloud capabilities that can streamline business processes and increase productivity?
When faced with technology end-of-life/support decisions, don't think about it as just another generational upgrade. Take the time to really think about the business challenges you have and how you can take advantage of the new benefits in the cloud. Those taking advantage of the cloud will move at a faster pace, simply by having access to the latest versions of technologies.
Plan Ahead for End-of-Life/Support Technologies
It's a good idea to know when to "pull the plug" by incorporating aging technologies into your long-term strategic IT plans. Knowing end-of-support/life dates will help your organization control risk and reduce unforeseen budget expenses.
If you need help identifying which of your technologies are facing end-of-support/life and the subsequent evaluation of replacement solutions, get in touch with us. We can discuss your current business processes and align cloud solutions that benefit your business.
---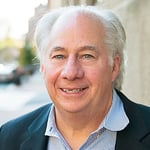 Mark Benton is the Director of Product Management at Systems Engineering, overseeing the on-boarding of new products and services by evaluating customers' needs. Mark joined Systems Engineering in 2010 as Product Manager to assist in developing and enhancing cloud- and security-based technology products and services for the company.